Who we are!
At Visualize your Science we are dedicated to improving the way research is being communicated by the scientific academic community. Coming from academia, we are aware of the important research conducted by Ph.D. students around the world, and we want to make sure that your hard work gets the attention it deserves. We are committed to giving you - the students - the best learning experience by:
being flexible, helping you easily fit your learning into your schedule

providing the right amount of quality information for efficient learning

assisting your learning with precise and personal feedback

giving you the tools needed to develop your own unique style

making the material accessible so you can study when the time is right for you

ensuring quality by expecting you to take active part in the material
Ph.D. courses
The goal of our courses is to teach researchers skills in design and illustration that will make you comfortable creating journal covers, posters, and presentations in an effective manner. Our courses are tailored towards Ph.D. students, but anyone is welcome to join, even if you don't need the credits.
Workshops
Our workshops will give you a taste of what is taught in our certified Ph.D. courses. Here you will learn the fundamentals of good design and how to avoid common pitfalls in science communication. We offer adaptable workshops that run over a couple of hours or span multiple days, you decide the depth of the knowledge that you require.
Commissioned illustrations
Time is a valuable and limited resource and sometimes there simply isn't enough of it to sit down and learn how to create beautiful images yourself.
The solution? Let us do it for you! With backgrounds in natural science, our team is expertly suited to translate your research into beautiful visuals for your next cover submission or grant application.
Meet the team!
The brains of the operation. Combining creativity and analysis to provide the best learning experience.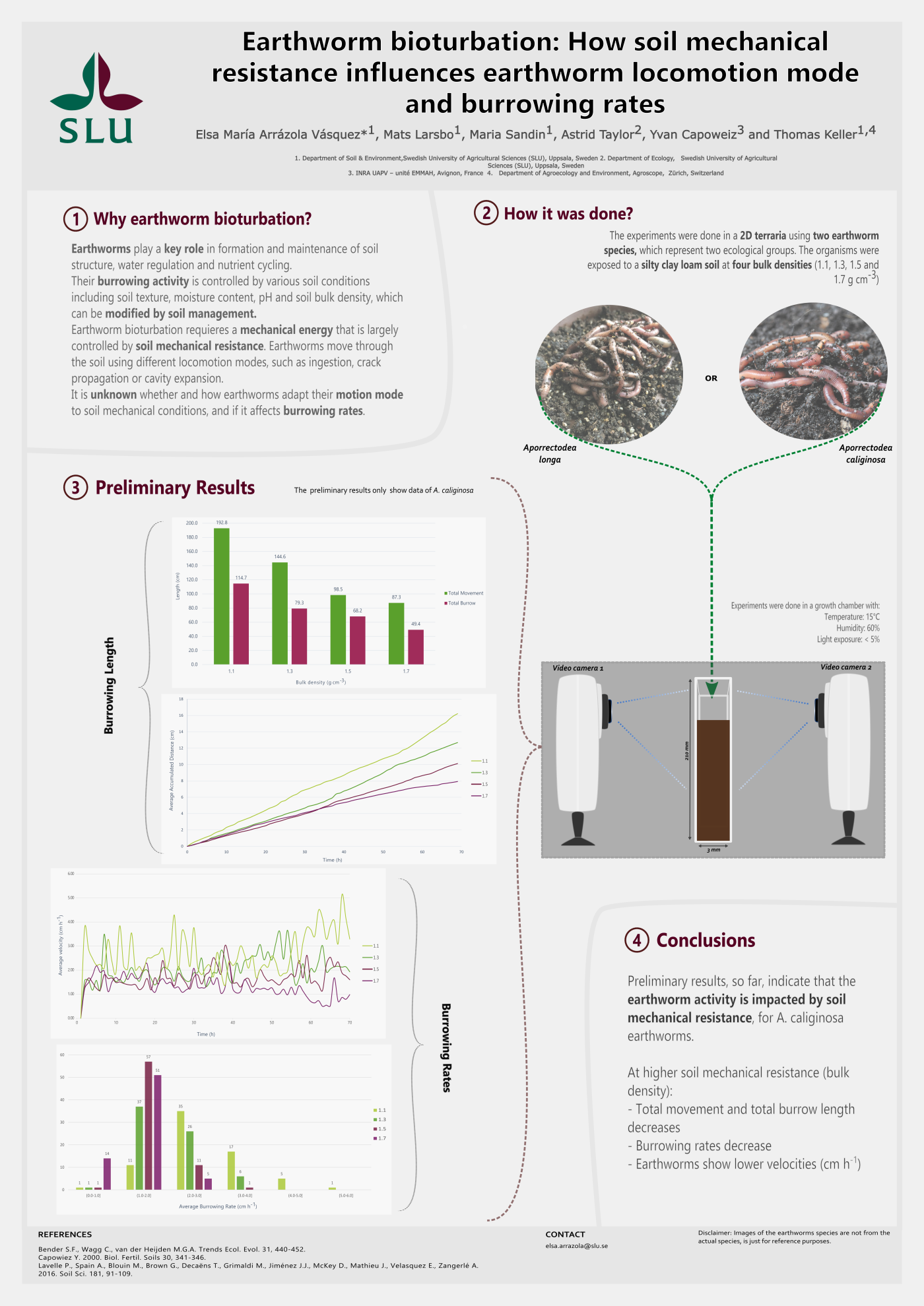 Please
sign in
or
sign up
to view an analysis of the graphical elements of the poster.
Earthworm bioturbation: How soil mechanical resistance influences earthworm locomotion mode and burrowing rates
Elsa Arrázola
SLU Swedish University of Agricultural Sciences
Department of Soil and Environment
Pallette

Text hierarchy